Lizzy's Volleyball is offered to youth (4th-6th grade,) teens, and adults in Santa Cruz spring, summer and fall.
Lizzy's Adventure Camps are fun-filled and educational offered Monday through Friday for children in 2nd grade through 8th grade during summer, winter, and spring breaks. Children are introduced to new sports, animals, and activities while learning in a supportive, FUN, and engaging environment designed to build confidence.
SCHEDULES for Camps and Classes
YOUTH and TEEN BEACH VOLLEYBALL 2021

Players will develop basic skills that are essential to beach volleyball, and grow within a healthy environment. Emphasis is placed on good sportsmanship, positive team spirit and most of all, FUN!
SUMMER 2021 BEACH VOLLEYBALL
Fun in the Sun Beach Volleyball
8:30-11:00 Monday-Thursday the weeks of June 14, 21 and 28
Youth (ages 8-11) and Teen (ages 12-15)
Drills, Skills, and Techniques
Register with Liz at www.lizzyfowler@aol.com.
SPRING AND FALL AFTERSCHOOL CLASSES
Fun in the Sun Youth Beach Volleyball 5 week classes Mar-Apr, Apr-May, Sept-Oct, Oct-Nov.
1:00-3:00 Wednesday afternoons at Main Beach for ages 8-9
3:00-5:00 Wednesday afternoons at Main Beach
for ages 10-12
3:00-5:00 Wednesday evenings at Main Beach for teens
Register with Santa Cruz Parks and Rec
SUMMER 2021
ADVENTURE SPORTS Offered in Santa Cruz 9:00-3:00 Monday-Thursday Register with Liz
At least 2 activities a day that are designed to build confidence of each participant in a supportive and empowering environment. Activities include: Swimming, Volleyball, Field Sports, Bocce Ball, Frisbee, Beach Games, River Tubing, Creek Walking, Skipping Rocks, Disc Golf, Slacklining, Bowling, Miniature Golf, Climbing at Pacific Edge, and More!
Blood, Guts, and Bones Camp Register with Santa Cruz Parks and Rec #217402
1:00-4:00 Monday-Thursday July 12-15
Experience the miracles of the human machine through engaging science activities and experiments each day! Make models of the lungs and digestive system and experiment with muscles, reactions, bones, and human senses, such as smell, touch, and sight. Why do we hiccup? How does your arm work? How do your eyes work together? How does your blood flow? And the answers to many more questions.
Fun With Physics Camp Register with Santa Cruz Parks and Rec #217401
1:00-4:00 Tuesday-Friday July 6-9
Discover the magic that comes from nature! Campers will experiment with gas pressure, buoyancy, light refraction, reflection, color, gravity, inertia, and Bernoulli's principle to learn the FUN of physics that are related to biology, physics, geology, and chemistry. Find out how to make things fly, glide, propel, go pop, fizz, and more. Play with balloons, water, gases, and objects of all different sizes and weights.
Ancient Time Travelers Camp Register with Santa Cruz Parks and Rec #217403
9:00-3:00 Monday-Thursday July 19-22
Transport back through time to ancient Egypt, Greece, China, India, Rome and the times of the Maya, Inca, Aztec. Participate in outdoor sporting events, Build pyramids, Play ancient board games, Make costumes and jewelry, Explore ancient scientific activities and DO experiments, Read myths and legends, Create ancient art, Trade at market square, Write hieroglyphics, and more...
A truly FUN experience for 2nd-6th grade boys and girls.
Animal Camp Register with Liz
9:00-3:00 Monday-Thursday July 26-29
Participants are introduced to many animals during this exciting 1 week program. Excursions to local museums, veterinarians, pet stores, and animal services, along with animal games and activities, and guest speakers with live animals enchant, entertain and inform participants. Exposure to new and rare animals, as well as local wildlife and domestic animals, their habitats, behavior, and care create an exciting and educational week.
Contact Liz to inquire or enroll at lizzyfowler@aol.com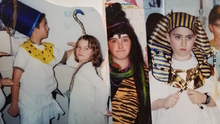 I'm Liz Fowler, and I've been teaching and coaching kids in the Santa Cruz area for over 30 years, including the past 15 years at Spring Hill School.


Offering wonderful and action-packed Adventure Sports Summer Camp experiences for kids of different age groups, ranging from 7 - 12 years old for over 10 years. B
ased on popular demand, I have branched out and offering this unique program and new programs (Animal Camp and Ancient Time Travelers Camp) to kids from
all
schools within the Santa Cruz area
Adult Beach Volleyball Classes are offered Spring, Summer, and Fall. Phil Kaplan and I have been working together to provide exciting and challenging classes for beginning players. Classes are offered spring, summer and fall through Santa Cruz Parks and Rec. Tournaments are offered to beginning players periodically through out the year.

No Attitudes Allowed Beach Volleyball Tournaments are offered to Novice and Intermediate Players at Main Beach, Santa Cruz offered spring-fall, one Saturday a month.



Education: California Teaching Credential and BA from University of California, Santa Cruz
CPR and First Aid certified